Welcome to Momentum Financial Services
At Momentum, we're here  to  help you manage your finances wisely.
Whether you're just starting out or are well established we've got the expertise and experience to assist you in meeting all of your financial requirements.
Meet the Team
John Diskin – Managing Director

Managing Director and founder of Momentum, John has over 25 years experience in the financial services industry. As if he wasn't busy enough, John also lectures in the Marketing Institute and can be found giving sound financial advice, on East Coast FM.
John specialises in all aspects of advice on pensions and retirement planning.
---
Niall Callery QFA – Director
Niall is an Owner & Director Momentum Financial Services Ltd. We are dedicated to providing high quality service to all clients in all aspects of financial services.
Specialties: Finanical Broker, Pensions advise, current and existing arrangements; Debt renegotiation, Wealth management
Qualified Financial Advisor specialising in Pensions and Retirement Planning, Life Cover, Investments and Health Insurance.
20 years + Lending experience
---
Three skinny lattes or 200,000 of cover?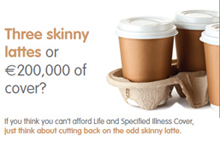 If you think you can't afford Life and Specified Illness Cover,just think about cutting back on the odd skinny latte.
From as little as 7 a week**, you could safeguard your family's
future.
Give you and your family the peace of mind of knowing that should you suffer a serious illness or die prematurely, your family will have the financial security they need in place.
---
Latest Financial News:
Budget 2014 Summary
The team at Momentum have put together this easy to read budget summary.
---
IMF's latest quarterly review
The IMF's latest quarterly review of Ireland's progress says progress on dealing with mortgage arrears is a make-or-break.
Information © AFP 2013
THE IMF has said that the progress of Ireland's banks in dealing with troubled mortgage holders will have a make-or-break impact on whether Ireland can escape from its bailout on a long-term basis.

The latest quarterly report on Ireland's bailout progress, published this afternoon, sees the IMF warn that the slow progress of the banks in returning to profitability is a key threat to Ireland's ability to fund itself independently of the EU and IMF.
Read the full Article on The Journal.ie
---
Pensions Update – Finance Bill 2013
The first draft of the Finance Bill confirmed the changes announced on Budget Day including the ability to take a taxable withdrawal of up to 30% of AVC funds.
However, there were also significant changes included in the Bill to the Approved Minimum Retirement Fund (AMRF) regime not mentioned in the budget which came as a surprise to many.
The main points are outlined on the following pdf along with a brief commentary.
Click to view full article pdf:
Momentum Pensions Update – Finance Bill v1.02.13
---
New Ireland Assurance
Protecting Our Customers
At New Ireland we really care about customer claims. Our claims statistics are so much more than just numbers.
They demonstrate our commitment to meeting our customers' financial protection needs when they need it most.
Contact us today on 0404-42007 to arrange a FREE Consultation